Distracted Driving Accidents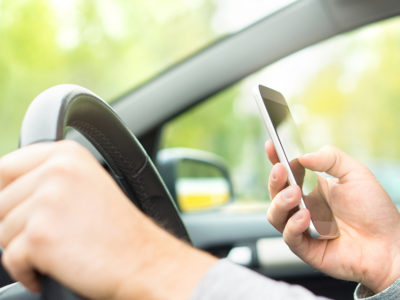 There are many forms of distracted driving — reading an email, looking at a social media post, responding to a text message, looking after children or pets, and even changing the radio station are all good examples.  All carry a risk of a driver losing control of the car. By far, the most common cause of distracted driving is cell phone usage.  On June 1, 2017, the Colorado legislature signed Senate Bill 17-027, which stiffened the penalties for drivers who  
misuse a wireless telephone.  Colorado lawmakers, like lawmakers across the country, have noticed a drastic increase of traffic accidents and traffic fatalities related to distracted driving.  These numbers have climbed since the introduction of smartphones.  
According to the Colorado Department of Transportation, distracted drivers cause nearly 40 accidents each day on the state's roads and highways.  Each of these crashes has an impact on the drivers and passengers involved. Distracted driving is a choice.  It is a choice to use a cell phone or become distracted by something within a driver's control.  Preserving evidence of cell phone usage following an auto accident can be critical to a successful outcome.  This evidence demonstrates a driver's choice not to obey the law and a choice to place other individuals on the road at risk.  
At Mager Law Group, our team excels at handling distracted driving cases, telling our client's stories and educating insurance companies and the court so they understand and appreciate the impact and damage that a distracted driver's behavior caused. 
If you or someone you love has been injured as the result of someone's else's negligence or carelessness, navigating the insurance and/or litigation process requires an experienced personal injury attorney.  Injuries can significantly impact your life.  When the unimaginable happens, you need an experienced personal injury lawyer in your corner.  
Mager Law Group has locations throughout the Front Range of Colorado including Denver, Loveland and Fort Collins.  Contact us to discuss your case.  All consultations are free of charge and contingency fee arrangements are available, meaning no retainer and no payment unless we recover for you.